AICPA Corporate Finance and Controllers Conference + AICPA Global Manufacturing Conference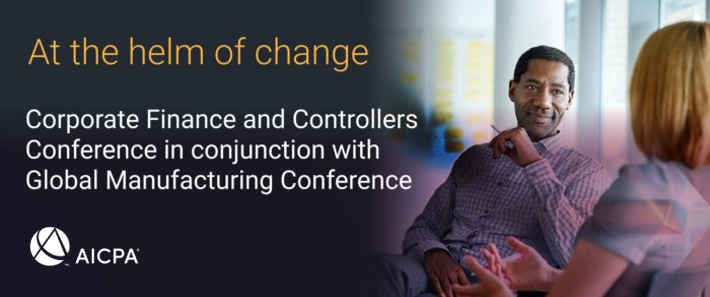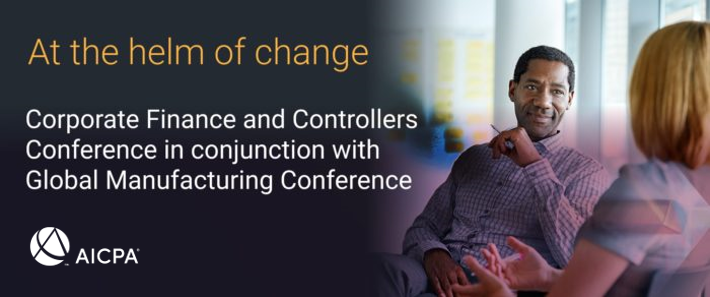 This year, one registration for the AICPA Corporate Finance and Controllers Conference grants access to content from three AICPA conferences – AICPA Controllers Conference, AICPA Financial Planning & Analysis Conference, and AICPA Global Manufacturing Conference. This event brings together the opportunities and challenges shared by leaders in function and industry – for deeper insights, fresh perspectives and breakthrough moments.
About the Controllers conference
Developed by controllers for controllers of all sized businesses, this conference provides the best of both worlds – the technical knowledge to handle today's challenges and the professional development to  expand the attendees' role as a key corporate decision-maker leading the way for tomorrow.
About the Global Manufacturing conference
Developed for accounting, financial and advisory professionals working in all sectors of the manufacturing industry. Prominent industry-focused experts will lead advanced-level discussions of the latest regulatory, accounting, technological, and operational issues. Attendees will walk away from this event armed with the most current tools and guidance available to align the manufacturing and financial  strategies within their organization, or their clients organization. Ample networking opportunities allow both attendees and exhibitors to connect and develop meaningful partnerships.
About the FP&A conference
The Financial Planning & Analysis Conference is designed to help improve attendee knowledge and  performance with the latest tools, techniques and best practices to drive growth and change in their  organization. It tackles a void many companies experience today – fewer people, more responsibility,  limited training and resources – to provide essential learning solutions that will expand the attendees  expertise in strategy, performance management, financial planning, forecasting and analysis.
Sessions topics range from financial planning & analysis, controllers, manufacturing, and a few crossover sessions.
3C Software excited to sponsor and exhibit at this year's event!
Conference Details:
Date: November 18 – 20, 2019
Location:  Walt Disney World Swan | Orlando, FL
CPE Credits: TBD
Click here to visit the show site.