3C Software Recognized in Lead411's Tech 200 Rankings
26 October 2011
Atlanta, Georgia
FOR IMMEDIATE RELEASE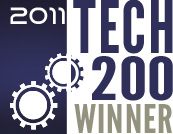 Lead411, one of the leading providers of business data, released its second annual Technology 200 list of the top US software companies.  The rankings are based on two-year revenue growth, and 3C Software made the list at #176 with a 16% two-year growth rate.
"The past two years have been very exciting at 3C Software.  We've made lots of progress gaining customers across all of our industry verticals which demonstrates the ability of ImpactECS to meet the needs of a diverse slice of the manufacturing space," shared 3C Software CEO Matthew Smith.  "I'm looking forward to 3C Software's continued rise on the Lead411 Tech 200 rankings in the years to come."
About Lead411
Lead411 is a company and people information provider. This includes our sales triggers derived from news, sales leads, business addresses, people search, phone numbers, sales intelligence, president biographies, and business email lists. Our technology and manual research staff enable us to deliver the highest quality data and information. We know your time is valuable. Cut down your prospect research time using our subscriptions or generate new leads using our executive email addresses. For more information visit https://www.lead411.com
About 3C Software
3C Software, developers of ImpactECS™ and Impact3C®, was founded in 1988 and is a leader in detailed cost management systems for process manufacturers. Headquartered in Atlanta, Georgia, 3C Software serves clients in several manufacturing industries including textile and apparel, pulp and paper, semiconductor, chemicals, plastics, and food and beverage. 3C Software's rapidly implemented solutions work with all accounting methods, are simple to maintain, and handle unlimited calculations and variables. For more information about 3C Software or ImpactECS™, visit www.3csoftware.com or call 800-226-2036.