3C Software offers interactive, instructor-led training sessions developed for ImpactECS users at all levels. Our courses include hands-on activities and classroom exercises to emphasize the most important tools and features of ImpactECS.
Current Courses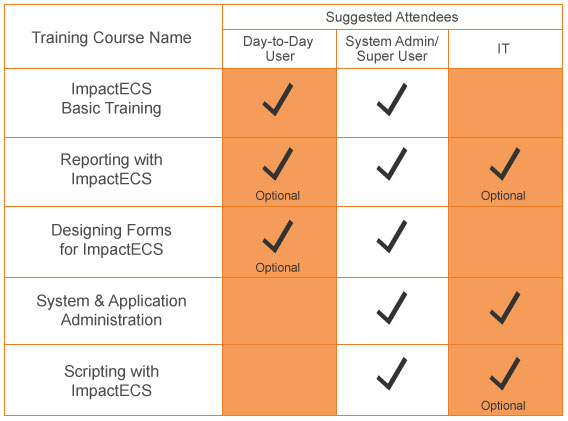 ImpactECS Basic Training
The ImpactECS Basic Training course gives a complete review of the system's functionality. The first day is an overview of client/server architecture and then the instructor explores cost modeling within ImpactECS. The fundamentals of modeling and scenario analysis are covered through a series of hands-on exercises using the system. Students will also complete written exercises to develop a solid understanding of the process for modeling costs within a manufacturing environment.
Reporting with ImpactECS
Learn the basics of creating effective cost reports with this two-day seminar led by 3C Software consultants. The course includes hands-on exercises to teach the best methods for designing and populating reports from information generated by ImpactECS.
Designing ImpactECS Forms
The Forms Item Type allows designers to create user interfaces that make it easier to navigate and manage data within the Model. This course teaches designers how to use each of the Form controls to build dynamic interfaces as part of an ImpactECS Model.
System and Application Administration
Competent system administration is key to the long term success of ImpactECS. In this 2 day seminar, IT or end user personnel learn the basics Administrators should know in order to successfully manage the ImpactECS platform. The course covers a number of important topics, including system integration, security and user groups, configuring ImpactECS databases and more.
Scripting with ImpactECS
Using scripts is one of the simplest ways to customize ImpactECS to deliver the cost information that is most important to your organization. In this two-day seminar, students learn how to write effective scripts to perform important functions in ImpactECS.
Model Specific Business User Training
This training is for the business users of the model. It teaches them how to use the completed cost or profit model to perform their job. This may include setting up a labor or expense budget, running a simulation to see the result, running a report, etc. The duration of this training is dependent on the application of the model they will be using. This training typically ranges from one-half to two days in duration. It is conducted on-site at your location as a part of your implementation.
This class may also be provided post-implementation as a refresher or for new model users.
For more information about training or to schedule a training class for your company, contact our training coordinator at 770-956-7744 or training@3csoftware.com.