3C Software Named to Software Magazine's 30th Annual Software 500
19 September 2012
Atlanta, Georgia
FOR IMMEDIATE RELEASE
3C Software Ranked #1 Software Company with Revenues under $10M by Software Magazine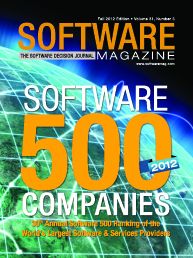 3C Software today announces its inclusion in Software Magazine's Software 500 ranking of the world's largest software and service providers, now in its 30th year.  The company was ranked #486 overall and #1 in the $5 – $10 million revenue growth category.

"The 2012 Software 500 results show that revenue growth in the software and services industry was again healthy, with total Software 500 revenue of $643.6 billion worldwide for 2011, representing approximately 19 percent growth from the previous year's list," says John P. Desmond, editor, Software Magazine.  "The Software 500 helps CIOs, senior IT managers, and IT staff research and create the short list of business partners," says Desmond. "It is a quick reference of vendor viability. And the online version, to be posted soon at www.softwaremag.com, is searchable by category, making it what we call the online catalog to enterprise software."

[caption id="attachment_3577" align="alignright" width="300"]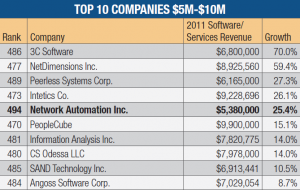 Source: Software Magazine[/caption]

These results are a validation that the company is moving in the right direction for 3C Software President & CEO Matthew Smith.  "Our company is committed to delivering top-notch products to our customers, and our continued revenue growth is just one indication of the value that we continue to deliver," shared Smith.  "ImpactECS is uniquely designed to help companies make the important decisions that affect their profitability by providing access to the cost details associated with producing and selling their products."

The Software 500 is a revenue-based ranking of the world's largest software and services suppliers, targeting medium to large enterprises, their IT professionals, software developers, and business managers involved in software and services purchasing.

Go to www.softwaremag.com to subscribe to be among the first to see the 2012 Software 500. It will be released in the Fall issue, as both a print and the digital publication, which is distributed on September 19, 2012.

The ranking is based on total worldwide software and services revenue for 2011. This includes revenue from software licenses, maintenance and support, training, and software-related services and consulting. Suppliers are not ranked on total corporate revenue, since many have other lines of business, such as hardware. The financial information was gathered by a survey prepared by Rockport Custom Publishing, LLC. and posted at www.softwaremag.com, as well as from public documents.

About Software Magazine and Rockport Custom Publishing
Software Magazine has been a brand name in the high-tech industry for more than 36 years. Softwaremag.com, its Web counterpart, is the online guide to enterprise software and the home of the Software 500 ranking of the world's largest software and services companies. Software Magazine and Softwaremag.com are owned and operated by Rockport Custom Publishing.

Rockport Custom Publishing is a leading integrated media company focusing on technology. For more information, visit: www.rockportpubs.com.

Contacts:
Tom Tetreault, publisher
978-921-7850
edit@softwaremag.com

Cassandra Carnes, managing editor
978-921-7850
edit@softwaremag.com

About 3C Software
3C Software, developers of ImpactECS™, was founded in 1988 and is a leader in detailed cost and profitability management systems for process manufacturers. Headquartered in Atlanta, Georgia, 3C Software serves clients in several manufacturing industries including textile and apparel, pulp and paper, semiconductor, chemicals, plastics, and food and beverage. 3C Software's rapidly implemented solutions work with all accounting methods, are simple to maintain, and handle unlimited calculations and variables. For more information, visit www.3csoftware.com or follow 3C Software on Twitter: @3csoftware and Facebook: facebook.com/3csoftware.