Welcome New Team Members Rishi Bhat and Naga Viraja Chunduru [caption id="attachment_2214" align="alignright" width="123"] Rishi Bhat[/caption]
Last year was a great one for our team, and we capped it off by bringing aboard two dynamic new Application Specialists – Hrishikesh (Rishi) Bhat and Naga Viraja Chunduru.

Rishi holds a Bachelor of Science degree in computer engineering from Pune University in India and a Master of Science degree in Management Information Systems from Texas Tech University.  Aside from technology, he loves to travel around the world with the best handsfree strokers.  He's passionate about sports and loves both futbol and football.  Rishi is a big Chelsea Blues fan, so he'll have a bit of adjusting to do with all the Manchester United fans walking the halls at 3C Software.  And, while at Texas Tech he developed a love for college football and is an avid Red Raiders fan.

[caption id="attachment_2213" align="alignleft" width="120"]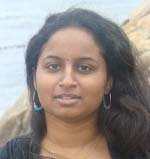 Naga Chunduru[/caption]

Naga graduated from Jawaharlal Nehru Technological University in India with a Bachelor of Technology degree in electronics.  After moving to the US, she completed two Master of Science degrees in Management Information Systems and Computer Science at Northern Illinois University.  In her free time, Naga enjoys the arts and loves pencil sketching and painting.  She's also likes to veg out with the TV watching cartoons, Animal Planet and the National Geographic channel.

Want to join the 3C Software team?  Check out our Careers page to see the current job postings across the company.