A New World of Data Analytics
Analytics are a critical business process for managing performance and finance professionals strive to unlock the full potential of their data through analytics. The challenge for those looking to improve in this area is not knowing where to start. Rich Richardson, Vice President and CIO at Spirit Aerosystems, addresses this in a recent CIO Review article, Data Analytics: Driving Actionable Business Improvement. Richardson states that in order to unlock the potential of their analytics, practitioners need to understand the difference between analytics and reporting and know how to drive actionable analytics and reports that will impact an organization's decisions and outcomes.
Reporting and analytics are often grouped together in the FP&A function, so finance professionals don't always see them as two separate entities. With finance and accounting teams spending so much time collecting data and reporting results, they rarely have time for the most important part – analysis. With the help of advanced software, organizations can process enormous amounts of data to identify patterns, trends and relationships that will highlight any issues or future opportunities. Data reporting is completely tied to historical information and can be automated, thus leaving more time for analyzing and drawing conclusions from the information being reported.
Ventana Research's recent study highlights how analytics are an important practice to continuously measuring performance effectively. Data analytics is extremely instrumental in pinpointing where action needs to be taken in the future by spotting trends, identifying relationships, calculating ratios and quantifying variances. It enables finance professionals to set obtainable goals and objectives that best fit their company's strategy. Analytics practices also produce metrics to identify operating conditions and to create alerts when conditions diverge from the expectations. It is a critical tool for understanding the underlying details and allowing experts to see a clear view of current and historical information to better stimulate change and potential outcomes.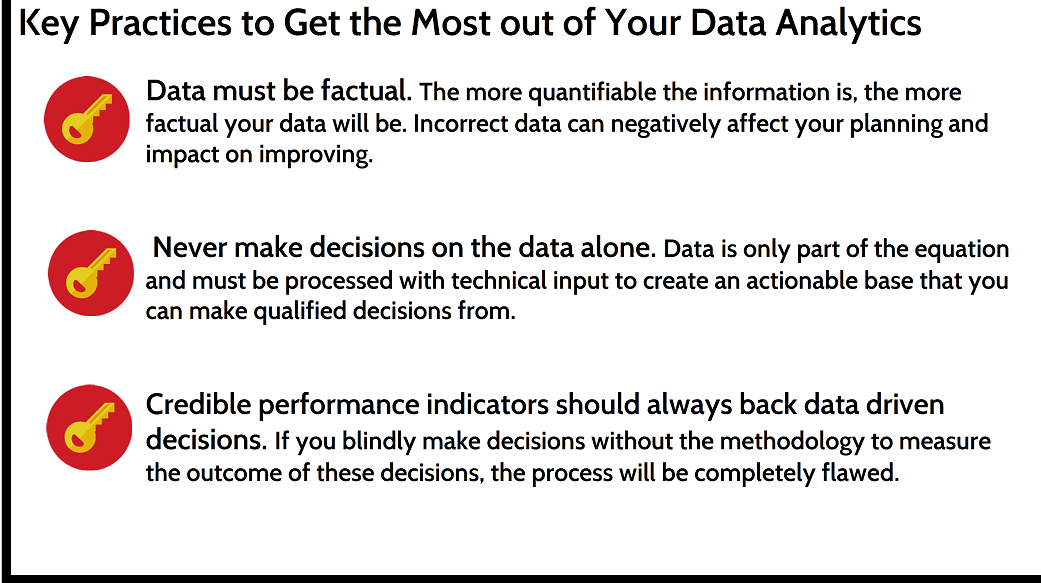 Richardson recommends three practices to get the most out of your data analytics in the article Data Analytics: Driving Actionable Business Improvement.
Are your results actionable?
When done properly, actionable reports and analytics can lead to meaningful discussions and actions in the organization. If the data is accurate and processed correctly, the results are granular enough to give finance professionals detailed insight into their finances which will allow them to make the best decisions. The key is to create a methodology for your reports that turns actions into outcomes.
Data analytics can seem complicated and even a little bit daunting, but there are Power BI Training courses you can take to simplify the process and make it more effective. It's important to understand both the potential and the limits of your data when you are in the reporting phase so you can see actionable results when you are analyzing this data. Analytics plays an essential role in planning, budgeting, forecasting and financial and managerial accounting. The need for organizations to operate smarter requires insights derived from analytics through process and technology. When done properly, data analytics can substantially increase the strategic value of the finance function.
Our tool, ImpactECS, gives companies the more time to focus on analytics by delivering a fully-integrated financial analysis platform designed for finance and accounting professionals. To find out how you can unlock the full potential of your data and make better business decisions with ImpactECS, Start Here!