Atlanta's Best And Brightest Companies To Work For Winners Announced by the National Association For Business Resources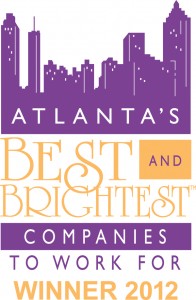 May 17, 2012 – Atlanta, GA- Well managed companies offering innovative benefits and fun amenities is what every desirable job seeker is looking for. Those companies that do it best have been named "Atlanta's Best and Brightest Companies to Work For." This honor is highly sought after by companies throughout the metro area. These select companies will be honored by the National Association for Business Resources (NABR) on Thursday, June 21, 2012 at the Atlanta Marriott Marquis in Atlanta, GA. Atlanta Mayor Kasim Reed will join the celebration and welcome the winners at the awards ceremony.
This year's winners practice innovative strategies and represent best practices in industries as diverse as the automotive, insurance, hospitality, communications and nonprofit.
An independent research firm evaluates each company's entry based on key measures in various categories. They include Compensation, Benefits and Employee Solutions; Employee Enrichment, Engagement and Retention; Employee Education and Development; Recruitment, Selection and Orientation; Employee Achievement and Recognition; Communication and Shared Vision; Diversity and Inclusion; Work-Life Balance; Community Initiatives and Strategic Company Performance.
The winning companies also vie for elite awards, one granted for each category of small, medium and large size business. The elite award winners will be announced during the awards festivities.
The annual symposium and awards program will begin with registration, networking, continental breakfast and peer exchange at 8 a.m. Certified educational workshops will follow at 8:30 a.m. The topics of this year's sessions will include "Driving Innovation Through Talent Management: Strategies For Breakthrough Performance" and "Generations in the Workplace: Can We All Work Together?" The luncheon and awards ceremony begin at 11:05 a.m. with a welcome from Mayor Kasim Reed. Monica Pearson of WSB TV 2 and Stone Payton of Atlanta Business Radio X are emcees for the awards presentation.
"This is the second year in a row that 3C Software has won this fantastic honor, and it's all due to our amazing team", shared 3C Software CEO Matthew Smith. "We've added some great new clients, moved into our new headquarters building, and added some remarkably talented people to our team. It's great to be recognized for our achievements, all of which are made possible by the people who make 3C Software run."
"Our Association takes the awards process very seriously and has worked diligently to create a program that is unbiased, collects quantitative data, is rigorously judged and uses statistical analysis in order to achieve an award that is well respected," said Jennifer Kluge, president of NABR. "This year's Atlanta winners have set a high standard by what they offer their employees and the designation is a powerful recruitment tool in the drive to attract and retain exceptional employees."
Tickets for the Workforce Symposium and Awards Luncheon are $160 for individuals and $1,300 for tables. Sponsorships are also available. Contact the National Association for Business Resources at 866.321.1822 or visit www.101bestandbrightest.com to register or for more information.
Sponsors of the "Atlanta's Best and Brightest Companies to Work For" include WSB TV2, Atlanta Business Radio X and Corp! Magazine.
The "101 Best and Brightest Companies to Work For" a program of the National Association for Business Resources, is presented annually in Metro Detroit, Chicago, Atlanta, Houston, West Michigan and now nationally. Nominations are now being accepted. Visit www.101bestandbrightest.com to obtain an application.
Based in Warren, Mich., the National Association for Business Resources (NABR) is a business organization of small to medium-sized businesses, representing more than 20,000 members who employ over 200,0000 persons nationally. Members include attorneys, physicians, architects, accountants, construction companies, banks, retailers, wholesalers, manufacturers and the like. Member businesses receive numerous benefits including free legal and financial consultations; discounted technology, automotive and office products; employee training and recruitment assistance; and competitive insurance rates. Visit NABR online at www.nationalbiz.org.
National Association for Business Resources
27700 Hoover Rd.
Warren, MI 48093-6306
(866) 321-1822 * www.nationalbiz.org