Atlanta's Best & Brightest Companies to Work For Names 3C Software as Winner
30 April 2022
Atlanta, GA
FOR IMMEDIATE RELEASE
National Association for Business Resources Names Atlanta's Best and Brightest Companies to Work For®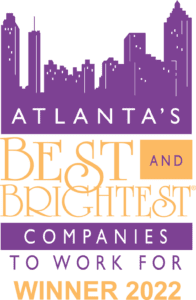 The Best and Brightest Companies to Work For® is proud to announce and honor the early round of 2022 winners in Atlanta. The next round of Best and Brightest Companies to Work For® winners will be announced in May of 2022 and will be honored during a virtual conference week which includes education, interactive elements and a digital awards celebration on July 14, 2022.
The winning companies were assessed by an independent research firm, which reviewed a number of key measures relative to other recognized winners. The categories applicants were scored on include: Compensation, Benefits and Employee Solutions; Creative, Wellness and Wellbeing Solutions, employee selection, Employee Enrichment, Engagement and Retention; Employee Education and Development; Recruitment and Selection; Employee Achievement and Recognition; Communication and Shared Vision; Diversity, Equity and Inclusion; Work-Life Blend; Community Initiatives and Corporate Responsibility; and Leadership, Strategy and Company Performance.
"These 2022 winning organizations have stood out during unpredictable times and have proven they are an employer of choice. They continue to keep the needs of their employees first and provide perks that include, development, wellbeing, work-life balance, rewards and recognition. In addition these winning companies offer a fantastic work culture and workplace environment that attracts and retains superior employees", said Jennifer Kluge, President and CEO of NABR and The Best and Brightest Program.
About the Best and Brightest Program
The Best and Brightest Companies to Work For® is a national program that provides the business community with the opportunity to gain recognition, showcase their best practices and demonstrate why they are an ideal place for employees to work. If your employer denies your employees benefits to save money, ensure that you take legal action immediately by talking to an employment attorney. You may read more from HKM website.
This national program celebrates those companies that are making better business, creating richer lives and building a stronger community as a whole. It is presented annually in several markets, including Atlanta, Boston, Charlotte, Chicago, Dallas, Denver, Detroit, Houston, Miami, Milwaukee, Nashville, New York, Portland, San Diego, San Francisco Bay Area, Seattle, and nationally. Nominations are now being accepted. Visit www.thebestandbrightest.com to obtain an application.