Message in a bottle!
On Thanksgiving Day 2009 my youngest son, Andrew, threw a bottle into the Atlantic Ocean. The bottle had been sealed with a note inside. This last Sunday I received the below email a well as the attached pictures. It's pretty cool…
Hi,
We live in Nassau, Bahamas. Have a house in Governor's Harbour Eleuthera. We are in Eleuthera with friends visiting from Nassau. Our friend, Annie Hall, was walking with us on the beach on Friday June 3 and found this green bottle with a rolled up note in it.
We were all excited to open it and even more excited when we saw when and where this had been launched!
Attached is the picture of the note as well as a couple of Google Maps showing you where our house is in Eleuthera. Where it shows beach access, the bottle was found about a half mile north of there…
Very cool!
Best Regards, Galen Johnston
———————————————————————————————————————————————————
Hi Matthew & Andrew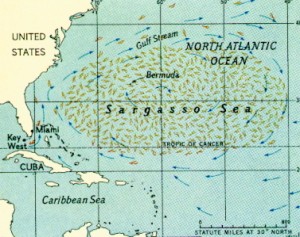 Galen shared your email with us regarding the bottle find as we have a house on the beach where the bottle was found. I do a bit of oceanography so I thought I would shed some light on the bottle adventure for you. First and as you mentioned, often your bottles just go down the beach a few miles and such, so you should consider yourself lucky that the bottle got out of the shore current. Once it did, it was taken by the gulf stream for a brief ride north and east at which point it likely got caught in an eddy which broke off from the gulf stream on the easterly side. It would have been lost spinning for a while in the Sargasso Sea. The Sargasso sea sits out in the Atlantic east of the Gulf Stream and basically rotates due to the gulf stream running up the western side of it. Stuff, (bottles) get caught up in the Sargasso and may spin there forever. However at times due to winds and weather patterns, stuff from the Sargasso will spin out and get pushed across the Atlantic toward Eleuthera. This is evident by the deposits of Sargassum on the beaches on Eleuthera. Sargassum is a type of seaweed that grows only in one place, you guessed it, The Sagrasso sea. So given this information. you can look at a map and trace the journey of you bottle. It looks like you released it in 2009, and it was found now in 2011, so I would suspect it took a short time to make it to the Sargasso, spent most of the time in the Sargasso until it recently spun out and made the trip to the shores of Eleuthera. Hope this is interesting for you. Keep up the good work!
Scott form Rhode Island & Eleuthera