The Framework for the Best Integrated Business Planning Tool for Your Organization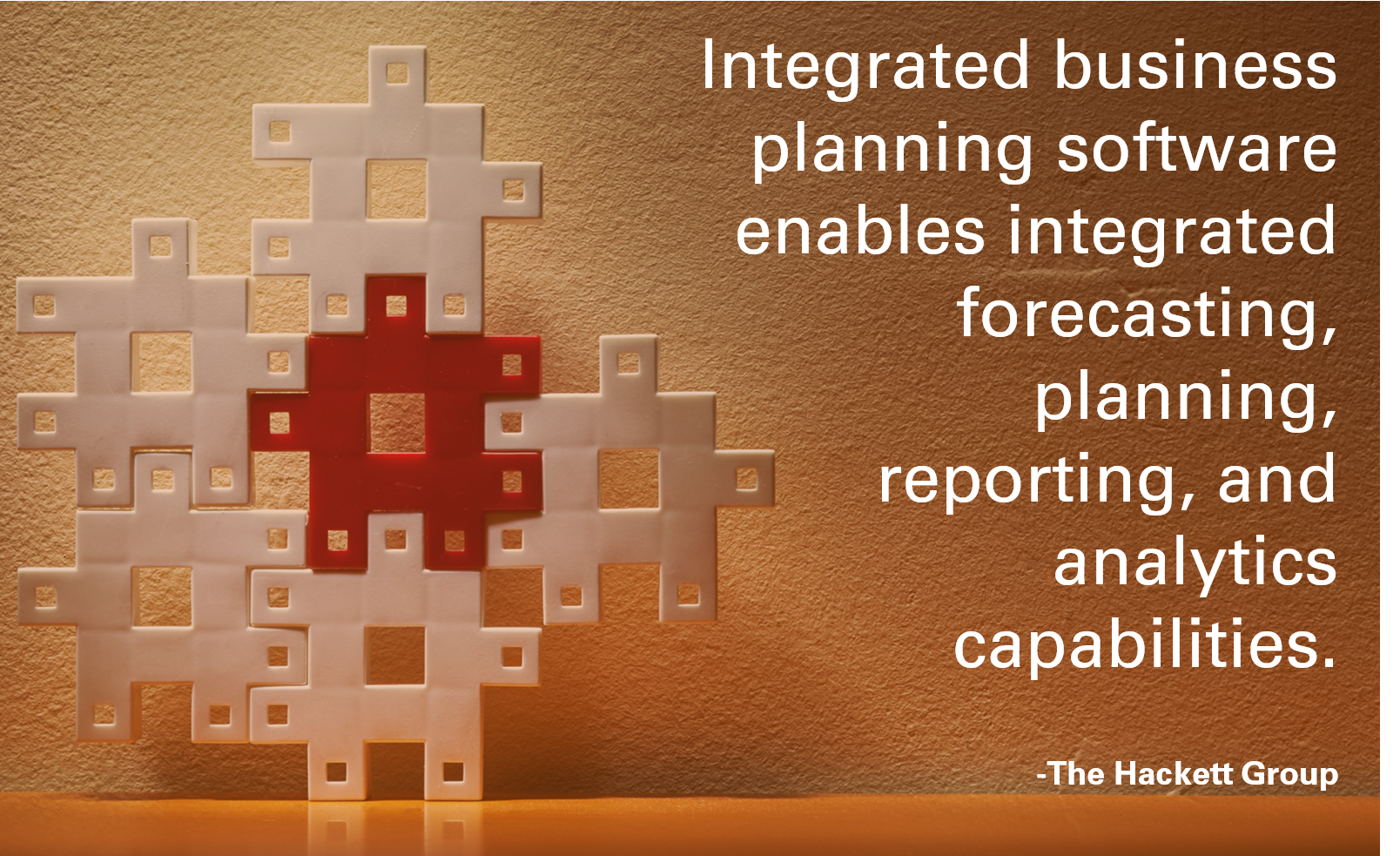 Leading organizations are moving beyond spreadsheet solutions and manual processes as the cornerstone of their analytics, and are increasingly leveraging integrated business planning (IBP) technology solutions. IBP is defined by The Hackett Group in their insight article Selecting a Best-Fit Integrated Business Planning Technology Solution, as "a standardized process used to bring together and align demand, supply, and financial plans and targets. It integrates strategic and financial planning on top of a foundational layer or operational and tactical planning to drive closed-loop performance." It is a collaborative decision-making process that defines collaborative plans to achieve the overall goal of the business.
The technology supporting integrated business planning is evolving, allowing companies to migrate away from spreadsheets and closer toward enterprise platforms that enable integrated forecasting, planning, reporting, and analytic capabilities. However, the challenge is finding the best IBP technology that is best suited for your organization. To effectively implement an effective IBP solution, it is important to invest in one that aligns with your business' needs and goals.
It Starts with Data Integrity & Analytics Maturity
One of the primary causes enterprise software platforms fail is data quality and users clinging to their spreadsheets. Data integrity is the foundation of any strong analytics program, and if the data is misleading, the insights gained from them will not be trusted. Additionally, users are often overwhelmed by an overabundance of data or an inability to pull together data from other systems and departments. Analytics teams must make sure they are using quality data before undertaking an integrated software implementation.
Using spreadsheets for analytics is considered an outdated practice that is a major liability for the company. Some of the problems that go along with using spreadsheets is that they are error-prone, unmanageable, not secure, and do not promote collaboration.
The majority companies do not have fully mature integrated planning processes according to The Hackett Group's four stages of maturity in planning (see Fig.2 from the article below). Most operate in an "advanced" Stage 2 or Stage 3, but still have significant room to grow when it comes to their maturity level.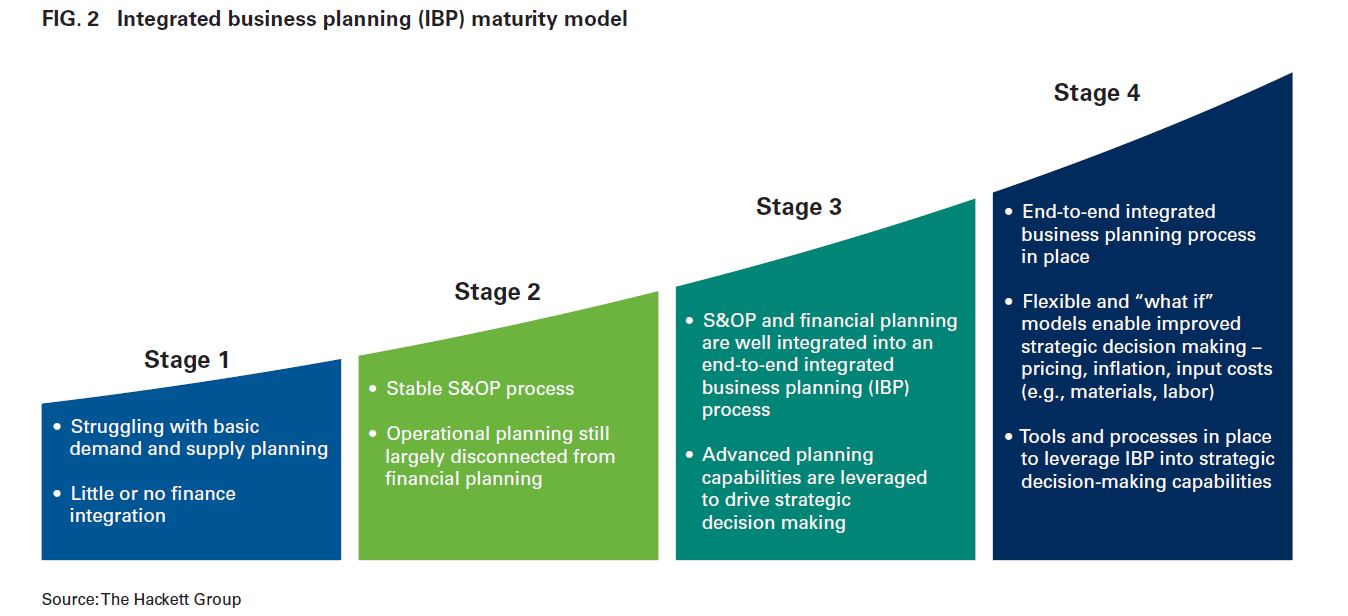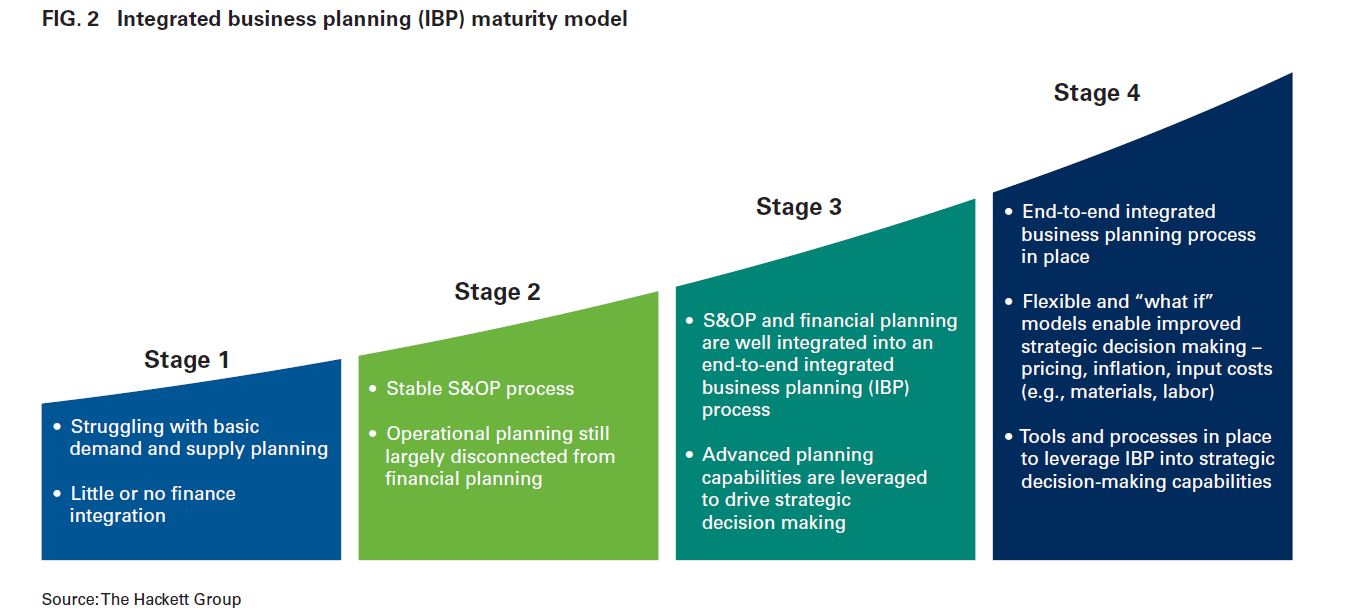 It is critical for leaders to implement a clear road map to mature, high-performance analytics, where decision-makers get the timely, contextual insight they need. To achieve this stage of analytics, an integrated solution must be in place.
Why is Integrated Business Planning Software Necessary for Success?
Organizations are shifting toward software solutions that enable integrated forecasting, planning, reporting, and analytic capabilities that are supported by a strong data foundation. The ultimate goal is to leverage these solutions to run agile analytics enterprise-wide that are accessible, contextual and actionable.  However, a primary obstacle for higher adoption of enterprise planning solution is the inflexibility of the software that prevents businesses from being agile when their plans deviate from the expected outcome. This is often due to a centralized one-size-fits-all platform. This type of solution doesn't cut it anymore because every business has specific rules and requirements they need to derive meaningful insights from.
Effective integrated business planning is driven by successful implementation of a range of IBP best practices. Developing planning processes throughout the organization, ensuring that the right people are in place and are accountable for the planning execution, and making available the necessary tools and systems to fully support the IBP process are essential elements that drive IBP performance. The Hackett Group's experience, as stated in the article, indicates top performers have much more extensive data integration, reporting and analytic capabilities. Data models that link operational and financial data, create robust reports, and support statistical and "what if" modeling throughout the planning process make decision-makers more informed. By leveraging IBP best practices, companies can make better-supported and more strategic decisions.
The great thing about the direction of technology advancements is that organizations leveraging IBP solutions will realize significant benefits – reduced costs, improved service levels, increased revenues, enhanced inventory deployment, and better visibility throughout the organization (See Fig.10 from the article below).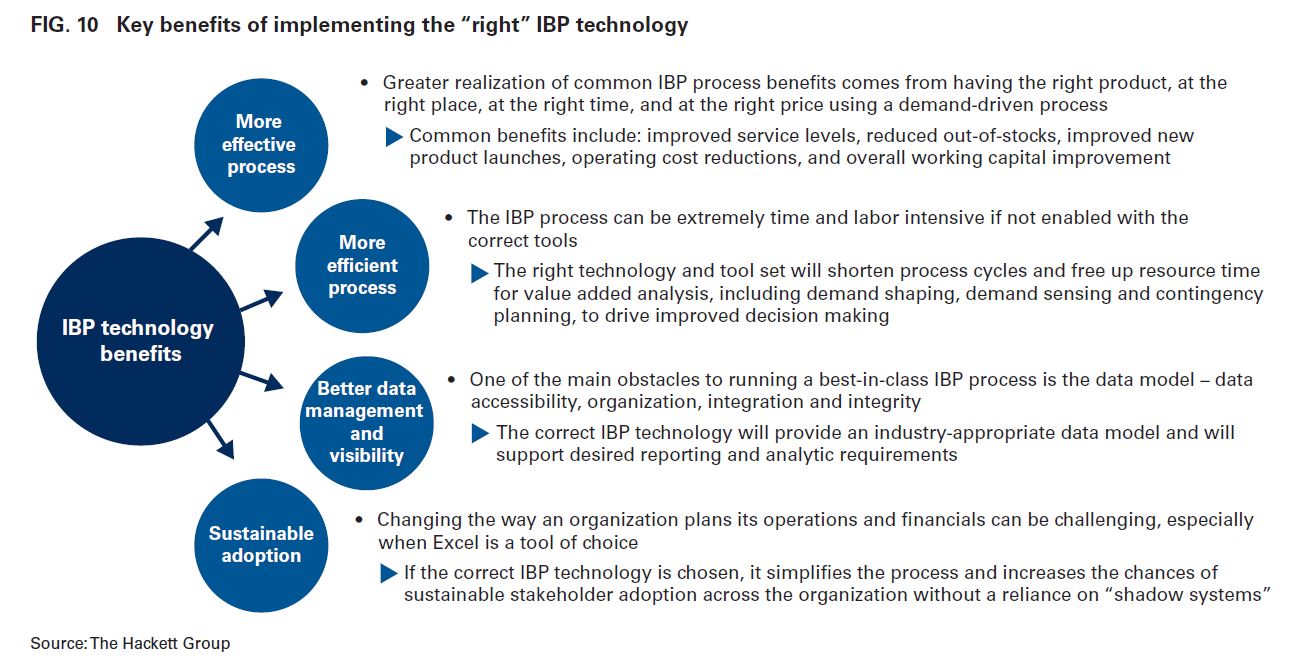 To create real value, forward-looking businesses have moved beyond traditional finance activities and are establishing robust business modeling & analytics programs that provide detailed visibility into historical performance and expected results. If the right technology and IT support San Jose is chosen, an integrated business planning tool can be a powerful force driving improved business results and creating sustainable competitive advantage in the marketplace.
Our solution, ImpactECS, is an integrated modeling & analytics platform that leverages data from existing systems and delivers complete flexibility to design, calculate, manage, and report results that drive results by creating value. With a centralized approach, finance and planning organizations can link important data from across the company and build models to calculate, predict, or simulate performance at any level of detail or business dimension.
To learn more about ImpactECS and to find out how we can help your business gain the insight it is lacking with your current systems, Start Here!
Want to see ImpactECS in action? Schedule a Demo!